Los Mandarinos Hotel & Spa
Cozy Boutique Hotel & Spa located up in the Anton Valley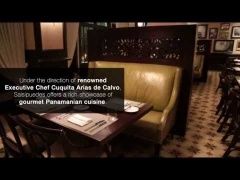 Los Mandarinos Hotel & Spa is a cozy, boutique hotel with stunning mountain views. The Tuscan-inspired outside decor, lovely spa and restaurant are all nestled in the majestic mountainside of El Valle. Service is personalized for spa treatments and restaurant room service. The area is surrounded by a mountain range that forms part of the Gaital National Monument, a cloud forest nature preserve. It is an excellent area for hiking, trekking, rappelling, mountain biking, nature tours, horseback riding, birding and adventure sports.
Highlights:
The hotel features one heated swimming pool and jacuzzi in the spa.
Picturesque and immaculate lawns and gardens
Extensive custom spa treatments both in-spa and in-room.
Eco-friendly and historic adventures to nearby sites include a hike to the highest point in El Valle, Cerro Gaital, a visit to Pre-Columbian petroglyphs and more
The hotel has two restaurants: an Irish-inspired pub and full Spanish restaurant. Panamanian cuisine is also served.
Bar/Lounge
Breakfast Included
Cable TV
Kids Activities
Kitchen Unit
Restaurant
Sauna
Spa
Swimming Pool
Wireless Internet
Get a Free Quote
Please complete this form and an expert will contact you within 24 hours.
Related Packages:
No City Noise

Panama City can be fun, but nothing compares to Panama's wonderful countryside where you can see lush mountains, filled with exotic vegetation and breathtaking valleys with picturesque rivers....

Read more

Rainforest Safari

Explore the Panamanian rainforest on this exciting vacation package. See some of the country's richest natural areas including the verdant volcanic valley of El Valle and also the refreshing...

Read more