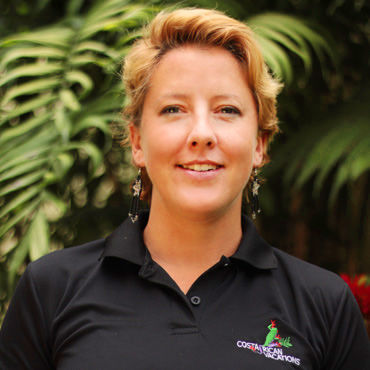 Number of vacations we have planned: 26,377
Our Client Satisfaction:
4.77
/ 5.0
Hometown: Chicago, Illinois
About Me: I came to Costa Rica in 2009 with my husband & children, because we wanted a slower paced life and access to lots of wildlife, nature and unique experiences. I enjoy hiking, traveling, wildlife, being with nature, adventure, meditating, trying new things & running. I enjoy traveling around Costa Rica with my family and experiencing and exploring new things together. I don't think I can ever get bored here, there is always an adventure to be had.
My Favorite Thing: Submersing myself in the culture and lifestyle. The atmosphere and people of Central America are so vibrant and warm. They seem to really enjoy life and having fun is a priority. Being surrounded by so much beauty and diversity it is hard not to. I love that I can on any given weekend visit a volcano, horseback ride in the cloud forest or play at the beach with my kids. I can't imagine my life anywhere else.
My Top Tips: Get outside, mingle with the locals and experience the wonder. There is so much adventure and wildlife to experience that sometimes we forget that mixing with the people and sampling the culture is also a treat when we travel. I like this quote. "All travel has its advantages. If the passenger visits better countries, he may learn to improve his own. And if fortune carries him to worse, he may learn to enjoy it." Samuel Johnson