Santa Clara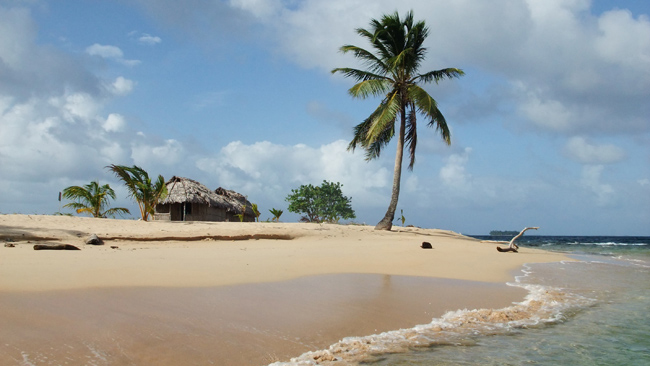 Santa Clara at a Glance
Ideal for:
Families
Couples
Large Groups
Beach Lovers
Nearby Activities:
Golf
Beach and Water Sports
Hiking
Canopy Tours
Nearby Attractions:
El Valle de Antón
Petroglyphs
Indian Market
Panama Canal
Special Features:
Santa Clara is known as one of the more accessible day trips from Panama City, providing calm Pacific waters to splash around in and long stretches of sand for walks. The area also boasts several all-inclusive resorts that highlight its surroundings, and combine luxury and pampering with seclusion and privacy. The new international airport in nearby Río Hato opened in 2013, allowing for direct access to this Pacific coast getaway.
Fast Facts
Region: Central Pacific
Closest Airports: Tocumen International (PTY) and Albrook International Airport (PAC)
Altitude: Sea Level
Average Temperature: 82º F (28º C)
Situated on the Pacific Coast, the Santa Clara region is home to Panama's all-inclusive resorts. These hotels boast numerous water sports and beach activities, fine dining with several restaurants and bars, and nightly entertainment. Also located in this region is Panama's only 5 star hotel, the JW Marriott Golf and Beach Resort.
Only 1.5 – 2 hours drive from Panama City and the international airport, this hotspot has also become popular with American expats looking to retire to an inexpensive beach destination. Local restaurants and food stores cater to the "american" crowd so you can find anything you need in town. High-rise beach condos now dot the coast and more are being built every day as investors and retirees settle in Panama.
Activities & Things to Do
This tropical beach destination has plenty of activities so whether you're seeking ocean exploration or relaxation and pampering, Santa Clara has you covered. Here are some of what Santa Clara has to offer:
Water sports including sea kayaking, snorkeling, and jet skis

Beach volleyball

Tennis

Golfing

Spa treatments

Ziplining in El Valle

Hiking and visiting the petroglyphs in El Valle
Day Trips
While the resorts have plenty of entertainment and activities to keep you busy, there are a few day trips available in Santa Clara:
Miraflores Locks Visitor Center and the Panama Canal

El Valle de Antón- volcano community about 45 minutes away. There is a neat Indian Market (best to visit on Sunday).
Wildlife & Nature
The best way to see wildlife is to take a day trip to El Valle. The bird watching is incredible with hundreds of species populating the forests. Monkeys, tapirs, and sloths are also abundant. El Nispero Zoo and Botanical Gardens have several native animals for viewing including the famous and almost extinct golden frog. There is also fabulous orchid nursery and conservation center that displays over 100 orchids native to Panama.
Best Time to Visit
Like any beach town, quick afternoon showers are common. The driest months run mid-December through May, and the green season lasts from June to mid-December. During the wettest months, expect daily afternoon showers that last an hour or two. Rarely does it rain all day.
Where to Stay
Santa Clara is a popular destination for tourists looking for an all-inclusive beach destination close to Panama City. Resort prices range from $200 to $500+ per night and typically include all meals, snacks, and beverages. There are also a few villa rentals that are great for families or large groups.
Restaurants & Nightlife
Most resorts in the area offer several onsite restaurants to choose from and nightly entertainment. However, if you are looking for a place in town, there are many to suit all tastes and budgets.
Amenities & Infrastructure
Santa Clara has most amenities to keep you comfortable during your stay:
Public transportation: Yes, public buses. Taxis are prevalent.
Public amenities: No.
Shopping: Food shopping is abundant, from larger grocery stores to roadside fruit stands. Souvenir stands with native handicrafts are found all along the highway that stretches from Panama City to Santa Clara
ATMs: Yes. Do not bring Traveler's Cheques.
Gas stations: Yes.
WiFi or Internet cafés: Most resorts offer free WiFi; Many restaurants, bars and parks also offer free WiFi.
Cell Phone Reception: Yes.
Restaurants: Yes; there are many options to suit all budgets
Nearest medical facilities: Medical assistance is available at most resorts. Hospital Punta Pacifica is the John Hopkins affiliated hospital located about 1.5 hours away in Panama City. Medical emergencies for tourists are covered for 30 days with free health insurance.
How To Get There
Fly: Scarlet Martínez International Airport, in beach town Río Hato and just off the Panamerican highway, is set to open by the end of 2013. This former military base is being rebuilt to serve destinations such as Miami, New York and Toronto, providing direct access to the area resorts.
Car: Make it out of Panama City as you head over the Bridge of the Americas. Continue along the Panamerican highway and head 113 km West. Signs for many of the area's resorts and beaches will be on your left as you enter the town of Río Hato.
Bus: Public buses from Panama City (Albrook Bus Terminal) to Santa Clara (Río Hato) cost less than $5 per person and take less than 2 hours travel time. The buses should leave several times per hour. Call 303-3030 for updated schedules and fares.
Shuttle/Taxi: Shuttles and private taxis, typically servicing Tocumen or from a Panama City hotel, will run between $150-160 for the 70 mile (112 km) trip.