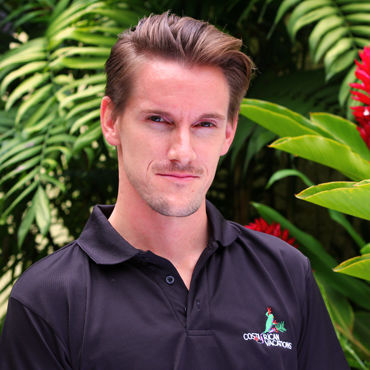 Number of vacations we have planned: 26,377
Our Client Satisfaction:
4.77
/ 5.0
Hometown: Devon, UK
About Me: I came to Costa Rica in 2006 with my sister after graduating from Plymouth University studying Film and Design. I was working on a Conservation Project in the Monteverde Cloud-forest when I decided to stay and teach Soccer & Art at the local school. In 2008 I moved to the Central Valley and found Costa Rican Vacations. After working as a Travel Consultant for 3 years I finally moved into Marketing where I could continue my passion for film and design and show everyone how exciting Costa Ric is. 122
My Favorite Thing: I love the geographic diversity Costa Rica offers. From the tropical rain forests down to the exotic beaches, up to the mountains that exceed 12,000 feet. For me this diversity makes for exciting journeys every other weekend! It is clear why Costa Rica makes such a great vacation destination as it has something for everyone.
My Top Tips: Practice a little Spanish, although everyone speaks English as this will go a long way to making friends here. Make sure to visit a small Cayuga boutique hotel, as the service will be exceptional and you'll learn something you would otherwise not from a larger resort. Finally make sure to try a selection of 'Casados' for lunch. This typical dish includes a wide variety of local flavors including the traditional 'Rice & Beans'. The more local it is, the better it gets!
My Articles
Panama population: 3,510,045 (July 2012); Growth rate: 1.41% (July 2012); Birth rate: 19.17 births/1000 population (July 2012); Death rate: 4.69/1000 population (July 2012)
Did you know that average water temperatures are in the low to mid 80s°F (25°C)? How about that 40% of Panama´s population resides in Panama City? Learn more Panama ¨quick facts¨ here.
The Republic of Panama is the southernmost country of Central America, with Colombia (and South America) to the southeast and Costa Rica (and North America) to the northwest. It shares a coastline with the Caribbean Sea, and Atlantic...