Highlights of Panama
8 days / 7 nights
Travel Consultants' Top Picks for the highlights of Panama
Highlights of Panama Overview
Panama is exploding onto the vacation scene as a country packed with something to do for everyone and this package is a combination of our travel consultant's top picks. While we believe this itinerary highlights the best things on offer, contact us  and we'll work with you every step of the way to build you the perfectly personalised holiday you want.
Start off exploring the lush highlands of Boquete. This quaint mountain village is nestled in a valley surrounded by mountains and is filled with exotic flora and fauna, pristine waterfalls, cloud forests and the towering Volcano Baru which helped shape the isthmus of Panama. Stay in the superbly located and traditionally furnished Hotel Panamonte.
Then its off to the archipelago of Bocas del Toro to island hop the palm fringed white sandy beaches and snorkel in the crystal clear waters. Long considered to be one of the biggest attractions of Panama, Bocas del Toro has the bustling community of Bocas Town as well as the laid back Caribbean vibe! Stay at Tranquilo Lodge – situated on Isla Bastimentos, Tranquilo Lodge works in harmony with the beauty of the National Park and offers a highly personalised experience.
Finally, hit Panama City where you will explore the Panama Canal and Casco Viejo and learn the fascinating history of this beautiful country as well as indulge in the Chef's menu at the world famous 'Donde Jose' restaurant. Stay at La Concordia, one of the most iconic buildings within Casco and the perfect location to get out and explore!
Not quite what you're looking for? Check out our other great packages, or contact us directly so we can help you build the vacation of your dreams!
Every itinerary includes: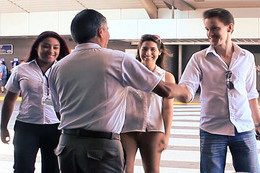 Airport Greeting Service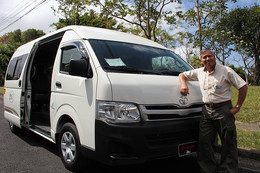 Private Transportation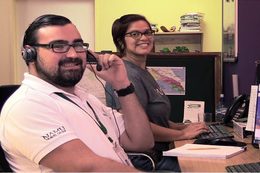 24/7 In-country Service
Itinerary
Day 1: Head to the Highlands

Welcome to Panama! Arrive at Tocumen International Airport and immediately transfer for your internal flight with renowned Copa Airlines directly to David.

From David, take a ground transfer over one of the best 4 lane highways in all central America to the beautiful village of Boquete.

Set in the highlands close to the border of Costa Rica, Boquete is a true gem. With a year round Spring-like climate, picture perfect views of lush valleys and crystal clear waterfalls this quaint mountain town will steal your heart.

You'll stay at the Hotel Panamonte and Spa – a charming historic inn which boasts luxury and elegance with personalised service.

The superb location means you are a stones throw from all the attractions Boquete offers, but impeccable furnishings, relaxed ambience and first class service may make you never want to leave!

Stay at Hotel Panamonte.

Day 2: Welcome to Coffee Country

Discover the lush, fertile lands of Panama on this full day tour which opens your eyes to the stunning and unique scenery of the isthmus of Panama. Visit the vibrant outdoor market of Guadelupe, marvel at the magnitude of the famous Baru Volcano, and learn all about the fascinating Panamanian geology.

A full morning exploring is enough to work up a hunger – help pick and create your own picnic style lunch at the picturesque Rubio farm where you will feast on local dishes, fruits, cheeses and seasonal vegetables.

Finally, stimulate all your senses as we delve deep into the dark roasted world of coffee at the Janson Estate. World renowned for their Geisha variety which is the world's most expensive coffee, you will learn everything you will ever need to know about coffee!

Stay at Hotel Panamonte.

Day 3: Head to the Beach

Customise your vacation to exactly your specifications today …

Ready to hit the beach? Take a 3.5 hour ground transfer plus a 30 minute boat crossing which will see you at your exquisite hotel in Bocas del Toro in time for a late lunch. Spend the afternoon relaxing by the emerald waters and swaying palm trees.

Alternatively, if you want to explore the volcanic highlands a little further we can arrange a half day excursion of your choosing before taking the transfer in the afternoon which will see you in Bocas del Toro to enjoy the sunset.

Settle into your stunning over the water bungalow at Tranquilo Bay – a small, friendly eco resort that is committed to providing personalised services and preserving the area's abundant biodiversity.

Stay at Tranquilo Bay.

Day 4: Island Hopping

It's easy to see why Bocas del Toro is considered by many to be Panama's top travel destination and this incredible Island Hop and Snorkel tour will leave you in no doubt it's true!  

Explore the picture perfect Caribbean islands and the vibrant marine life by boat as we glide through mangroves and watch the dolphins play before jumping in and snorkelling in the pristine coral gardens of Coral Cay.

Tuck in to a traditional Caribbean dish for a well earned lunch before we head to the Red Frog Beach Resort where you are free to explore the crystal clear waters or simply relax on the sandy, white shores before a final stop of more snorkelling at hospital point.

Stay at Tranquilo Bay.

Day 5: Kick Back and Relax

Indulge yourself in island life with this free day. Grab a water taxi and visit the main island, explore the area by kayak, island hop and visit some of the many beautiful beaches or simply kick back and relax.

Ask us for our top recommendations and make the most of the Bocas archipelago.

Stay at Tranquilo Bay.

Day 6: Panama City

After a short morning flight, get picked up by your private guide and start your exploration of Panama City and the Canal.

Tour the Miraflores Visitor Center and Museum and learn the fascinating history of the canal before heading to the viewing deck to see the ships transiting one of the most impressive feats of human engineering.

Next stop is the stunning Casco Viejo – Panama's Old Quarter. Wander the streets of this UNESCO World Heritage Site and marvel at the 400 year old architecture while your guide fills you in on the historical significance of this area.

Your guide will drop you off directly to your hotel, or you can choose to spend some extra time exploring the many boutique shops, cafes and restaurants that cater for every taste.

Whenever you are ready, check into your impeccably decorated and superbly located hotel – La Concordia. Your final 2 nights may see you never wanting to leave your hotel room!

Stay at La Concordia.

Day 7: Visit the Indigenous Embera Community

Leave the city far behind and jump into this full day adventure with the indigenous Embera tribe. Travel up river in a traditional dugout canoe, keeping your eyes peeled for wildlife in the beautiful Chagres National Park.

Be welcomed by traditional music and gather with the tribe elders to learn about their culture. Enjoy a freshly prepared, traditional meal, join in the shamanic dancing or sit back and watch.

Head back to the city and prepare for dinner at the Chef's table at Donde Jose – a tiny restaurant that has made it onto the list of the top 50 restaurants in the world.

Expect a culinary masterpiece as Cordon-Bleu trained chef Jose Carlos explains the inspiration and design of each dish as he unravels his story of Panamanian food.

Stay at La Concordia.

Day 8: Heading Home

Wake up in splendour and enjoy your final few hours at La Concordia before taking your ground shuttle to Tocumen for your departure.
Hotels Included

Located in the Boquete Valley, at the foothills of Baru Volcano, this century-old boutique hotel uniquely blends European tradition with Latin...

Tranquilo Bay is located among the most biologically diverse protected areas. This biodiverse fantasy covers almost 20 miles and features a wide...

The fusion of the old with the new, achieved through subtle splashes of color and sleek forms, are a reflection of what Casco Viejo is truly about.
Tours Included

Traversing the transparent turquoise waters of Bocas del Toro, your Bocas Snorkeling and Wildlife Tour begins at an Ngobe-Bugle indigenous village on Isla San...

This tour is the reason why many people come to Panama. Starting at the Miraflores locks of the Panama Canal, your expert guide explains this exciting entrance from...

Beginning in Chagres National Park, your bicultural guide leads you to a ride up the river in dugout canoes, the Embera´s traditional hand-carved boats. During this...
*Prices reflect our best approximation of low season rates and are subject to change at any time. You will receive a 100% accurate price when you inquire with us. The rates listed here, are per person, double occupancy accommodation and include taxes, domestic transport, tours and hotels as described, unless otherwise indicated. Price does NOT include international airfare or optional travel insurance or any other services not expressly mentioned.